As we move on in India , we find various temples and worship places were devotees go so as to get their wish fulfilled. Some wierd stories , legends and beliefs are always found attached with these holy places. One of such group of temples is the 51 shakti peeths of Goddess Durga which are spread in the whole country with a common story.
Sati , daughter of Daksha (Son of Brahma) was an incarnation of goddess Durga who fell in love with Lord Shiva. Unfortunately, Daksha was not happy with the choice of Shiva for Sati's Husband. Sati was a stubborn and in deep love , she ran out with Shiva and got married. Daksha got angry and in order to take revenge organises a Yagya in which he invites everyone except Sati and Shiva. Sati gets annoyed and jumps into fire with this act of his father. Shiva in depression of Sati's death carries the body of Sati and starts to roam around in forests. To get him over this depression , Lord Vishnu with the help of his weapon destroys the body of Sati which consequently got into pieces and landed up in 51 different places. The places came to be known as Shakti Peeths.
Kamakhya : The Unusual One
As the result of Vishnu's weapon different pieces of Sati's body felly at different place which were called Shakti peeths. Kamakhya Devi is one of the Shakti Peeths and is associated with Genital organs or Womb of Sati.
Kamakhya : The Menstruating Goddess
The Womb or Uterus of Sati is said to be fallen at Kamakhya Devi Temple in Assam. It is believed that this womb or uterus menstruates in the month of June. This Time the Brahmaputra river near the temple turns red. The Vagina of the Goddess is installed in the Garbh-Griha of this temple. At that time , the temple remains close for three days and after that the sacred fluid of collected near vagina and from the river is distributed amongst the devotees as prasad.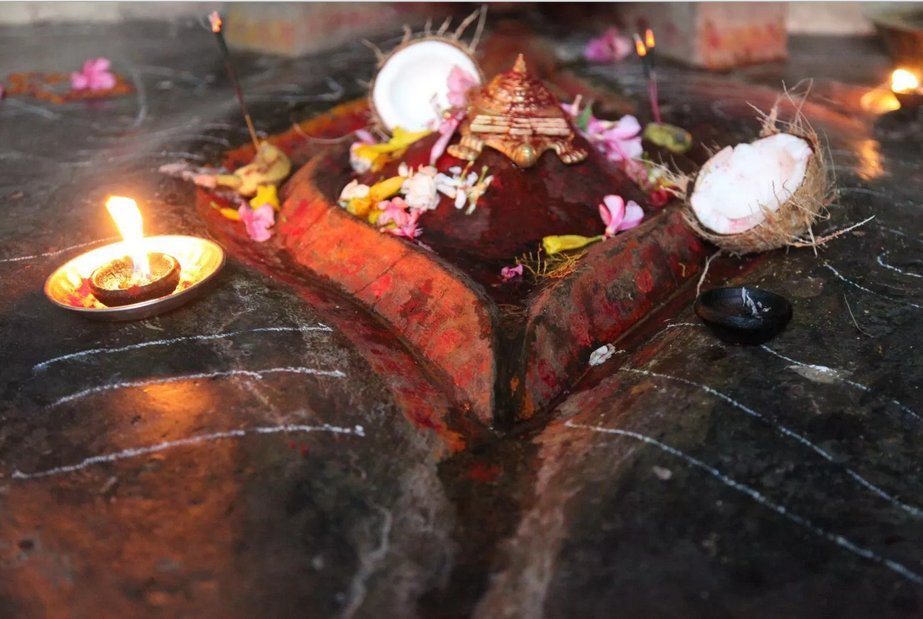 Sati's Vagina
The Devi is usually worshipped in a very wild way. She is generally offered sacrifices of animals and plants. Animals like goat and dogs are offered to the goddess. Many things like thick milk is offered to the goddess to increase her fertility.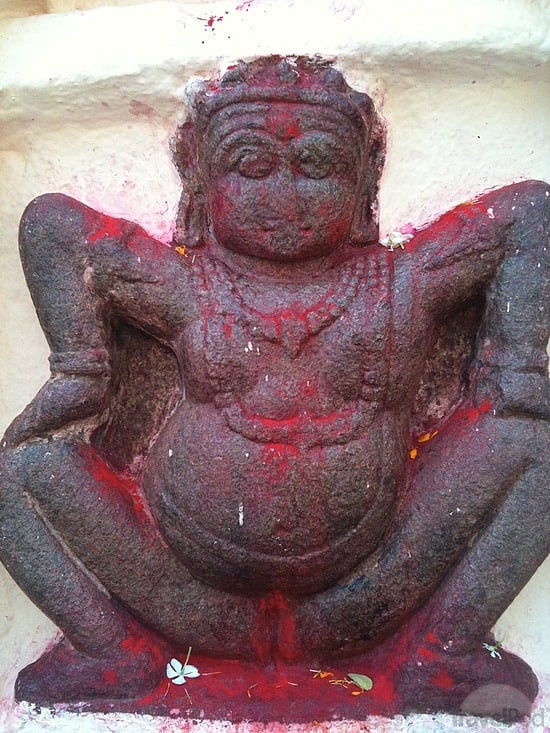 The Bleeding Statue - Kamakhya

Girls in their menstruating age is told to visit this shrine if they often encounters any kind of bleeding or menstruating problems.
Symbolism
Kamakhya represents an goddess who is bleeding due to her menstrual cycle. Menstruation is the process that depicts the creativity of a women to give birth. As Kamakhya , Goddess Durga also represents fertility and creativity of Women.